18th June (Rain Date 25th June) 2016
Annual Heineken Round the Island Seagull race. Bermuda

As far as we know, Bermudas first organized Seagull race was in 1969, when two locals, "Ghost" and "Skeets" got into a heated argument over who had the fastest dinghy. It was decided that a fair race around the island should be run, with both boats powered by British Seagull engines. History does not reveal who won, but the idea of racing in small boats powered by Seagull outboards appealed to many and Seagull racing caught on, with the main event being the annual 'Round the Island Seagull Race ever since.
Sign up 6:00 to 7:30 at Robin Hood Pub & Restaurant
Entry fee $70 per person – includes T shirts and BBQ dinner.
Start at 8:00. The venue is Spanish point Boat Club.
Route anti-clockwise around Bermuda (42 miles)
Enquiries to Martine: Ph 298-1220 or email martine.purssell@law.bm
NZ contact is 'JC' 09 235 9913 Auckland or email: sandspitmotor@xtra.co.nz
Details on Facebook Click Here
Click Here for photos from 2015
---
Previously
Queen's Birthday Weekend, Sat 30th May ~ Mon 1st June 2015
Lower Wanganui River. NZ.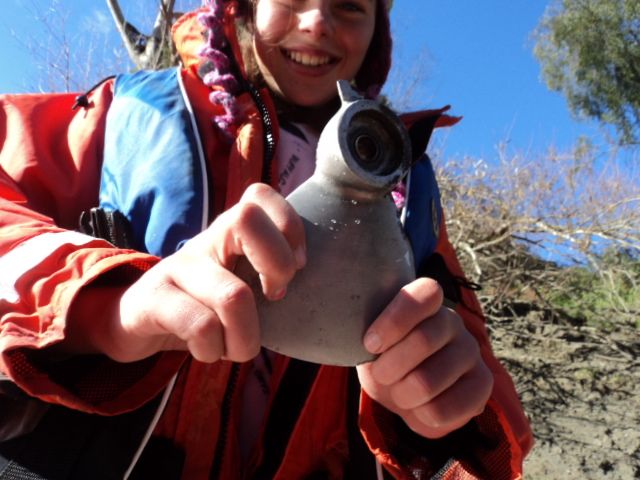 ~~3x Tales of Adventure from the Whanganui~~
~~Photos click here~~
The Wanganui — Who's done it, who hasn't, a must to cross of the bucket list.
Saturday: Jerusalem, that's where we're headed. A winding narrow road but alas sealed all the way. A smile and a wave to the locals and they will offer you their knowledge. Campsite found, to be fortuitous with its own boat ramp. A little rocky, but it wouldn't be the Wanganui if it wasn't. Tents pitched, beds aerated, kettles on, sausages eggs and soup cooked before the sun disappears. A few stories to be told around the lantern. Retire to the comforts of bed and an echo of song heard throughout the night.
Sunday: No rain!! Up early. Breakfast under way. Beds deflated, Tents packed away. Boats set up with food, fuel and all the life saving equipment needed to tread the water. Motors started, smoke disturbs the sunshine beaming through the open river passage. Oops! we're off. Hold on!! What's this a wave not expected. Caught everybody out. But alas we have the technique to discard the water on board. Whew! NO turning back- NO way out. The river has a mind of its own, buts it that feeling of conquering, fear of the rapid as you get nearer. A few boulders get in your way. Unscathed and excitement as you get through. Check to make sure everyone is following. A couple of prop springs decide it is too much. Your thoughts is it worth it! YES. The scenery magnificent. The warmth of the sunshine when you come out of the narrow gorges. The support crew standing on the top of cliffs waving their high vis flags at you. Having a bite to eat when another vessel is changing a spring. Concentration a must as you navigate and spot hazards. Finally the rapids are over. Support boats coming from town to meet us. The happy thought we are not alone. Vehicles backwards down the banks and resting in the river. Stock following along the banks trying to outrun the seagull. Geese flying overhead wondering who and what is disturbing the peace and quiet. A few locals waving from the shore. This is good this is great. Awaiting us at Aramoho ramp other Seagullers welcoming and willing to help us up the ramp. A warm fire awaits us on the river bank with logs to sit on, unwind, warm up and reminisce the experiences we have encountered over the day. Would I do it again? Had to sleep on that one but YES.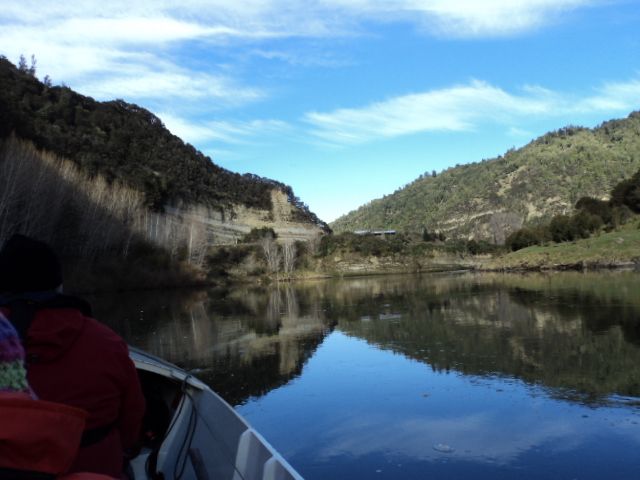 Weeks of planning and a day of panic.
River condition… Weather forecast…etc Boat.. check check Motors.. check Tools.. check Spares..check and the list goes on. Eventually we're all packed up and Saturday morning is the BIG off. Well this is one out of the box. An uncharted expedition for seagull folk. Eventually we arrived at Arr Larr Grand campsite, Wanganui county metal pit Jerusalem. Complete with running water… and lots of it. Everyone staked a claim and tents popped up. Surplus vehicles were taken to Aramoho motor camp. This was the point of no return!! A comfortable night was had surprisingly. A hive of activity took place at daybreak. Hurriedly packing up and getting onto the river. But alas one stubborn tart would not pass water. With persuasion all came right. With a hiss and a roar and a good cloud of blue smoke we were away. Through the first rapid 'A doddle' This will be a piece of cake…WRONG!!! No 2 rapid sorted us out smartly with everyone taking on water. Bailing out and a little more caution executed, we settled into a good routine. 'Rapids ahead, look for a good route, make a plan, and off you go' hope like hell you took the correct path!!! Miss the snags, bounce off a boulder or two, modify the propeller a bit and maybe replace a spring (or two) The trusty road crew disappeared over the last hill and the river changed. getting wider and still replacing more springs!! Hipango park came and went and we powered on at full throttle (same as the rest of the day) With no other boats in site. Upokongaro flashed by before coming to rest in the mud at 'Camp Aramoho' The toll, 15-1/2 litres of fuel, 4 springs, 1 bashed around propeller, and a beaten up boat. A TRIP OF A LIFETIME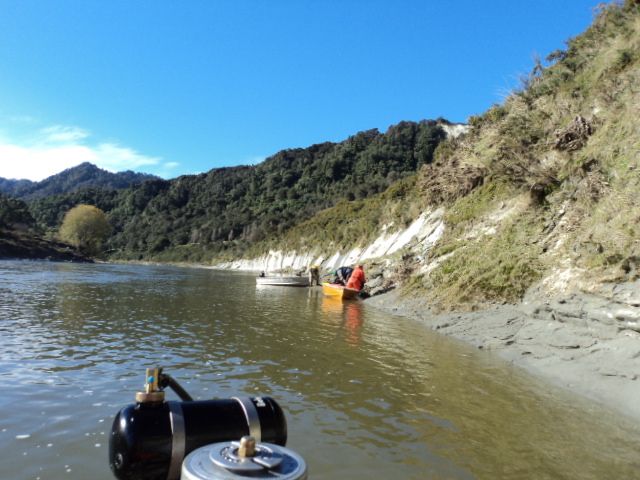 The River Log 
Saturday. The road to Jerusalem is an adventure in itself. It's best driven slowly as it's winding, much is single lane, with slips occurring frequently. The locals turn out to be a friendly lot, they keenly offered their local knowledge. A quick reconnaissance of the area quickly establishes the best launch-site & campsite.
Sunday. The Start. Overnight cloud kept the frost away. As the morning emerged the cloud cleared to reveal a clear fine day. We just scored the jackpot! A quick check of the river showed a slight drop in level, but nothing of concern. The campsite comes to life with the smells of coffee & bacon & anticipation. Soon the tents are packed & loaded onto our trusty road support vehicles, ably driven by Charlotte & Warren. We launch into a quiet pond. Three boats in all. Andy, Holly & Paul in a Bermudan Flea running a 102. Phil & Kay in a 12ft Starcraft running a Silver Century. Rex being tail end 'International Rescue'. The many hands soon make light work of the logistics of carrying gear & motors. Gear is lashed down, drain plugs are checked, & survival suits are donned. Mean while, back in Whanganui town three boats start their journey up the river. Dave & Anne in a Tacker cat. Ross in a Tacker cat. Jim in a 14ft Tinny. Back at Jerusalem. The peace & tranquility is broken by the familiar drone & smoke of Seagull outboards. The Whanganui is surprisingly swift, reminiscent of the upper Waikato. Navigation & seamanship is now the order of the day. Attention is now fixed on reading the river & spotting hazards. The river has an initiation in store for us, within a few bends after the launch we encounter a significant rapid with tall standing waves. Much water is taken on-board, however, the on-board positive buoyancy prevents disaster. We regrouping in a quiet pond & bail out. Back underway, rocky rapids ensue every Km or so, Reading the river becomes second nature, & we become masters of it. Every rapid has a particular 'tongue' of best passage, determining this quickly is imperative. Also paramount is to quickly spot the tell tale standing wave pattern from hidden rocks, often in the main channel. The journey settles into a steady pace. Steady Sunshine is the order of the day, despite the forecast showers. Prop springs last little more than an hour or so due to to the numerous rogue rocks. The river valley is steep sided, much of it a scene from 'The Lord of the Rings'. Apparent is the extreme height of flood waters. Vast quantities of migrating river silt are deposited on the riverbanks. Fascinating are the weirs made of rock by early pioneers in their efforts to control the river flow for the benefit of steamboats. The journey reveals some 35 rapids. Haul-out. We arrive at the motorcamp base quite late in the day. Thankfully the boat-ramp is on-site, greatly helping our logistics. We tally the carnage from the trip, 4 bashed props & 10 springs. We enjoy a toasty warm open campfire setup on the riverbank. What was supposed to be just an investigatory run, turns out to be one of those great adventures you only get a few times in your life.
~~Photos click here~~
---
Check out the Facebook Page
Photos & Discussion from recent events Click Here
---
 Click Here for Events Calendar July
---