8th to 11th October 2015
Brits on the Beach, Whangamata, NZ.
Program
Briefing will be at Saturday 9am at the park beside the Coastguard and Marina. Marina end of Beach rd.
Event 1, Sat 8:00am. We are going to have a show and shine to be displayed at a stall at the market in Williamson park. Set up time is between 8am and 9am. These engines will need to stay until 2.30 pm so don't use your race engine. You will be judged on the engine and the stand so get creative.  This is an engine show and engines do not have to be original or immaculate. It is a fun event with two prizes one from the judges and one judged by the public. Each engine and stand will need to have your boat number on it. We will have someone looking after the engines so they will be safe. Entries will need to text Andy on 0276085770 at least a day or two before the event.
Event 2,  Sat 12:00 noon. Around the buoys racing. Course is approximately 2nm, there will be three beach starts  top of each hour about 5 to 10 mins apart. 3 one lap races
Event 3,  Sun morning. This is a long distance trip out around the islands off the beach in front of town this will not be a race just a fun event and will be held after the last race. This is very weather dependant. Takes about 3 hours. Please let us know if you are keen to do this event when you enter.
Classes that we have prizes for are.
2 1/2 dinghy
4 1/2 dinghy amateur (production boats)
4 1/2 dinghy pro
Classic Bermudan
New bermudan 20 footers
Modified
Best dressed crew, theme BRITS
All engines must use standard seagull parts only except for  modified class.
* ALL SKIPPERS MUST HAVE A CELL PHONE ON THEM DURING ALL RACING AND ALL SKIPPERS AND CREW MUST WEAR LIFEJACKETS WHEN THEY ARE ON A BOAT AT ALL TIMES as per Environment Waikato Regional Council bylaws. The Harbour Master will be keeping an eye on us.
* We will monitor vhf channel 6 if skippers want to use a VHF radio instead of there cellphones
* Prize giving will be at 6.30 at the Coastguard rooms. There is going to be a meal, details TBA. Should be wrapped up about 9pm.
* Entry fee to all  3 Seagull events, Will be $TBA dollars for the boat and skipper will include one meal. Extra meals will need to be paid for when you enter.
We need to cover our costs. Any money left over will be donated to our local Coastguard.
We will have a couple of private addresses to park your trailers as our Council will Fine you if you park a trailer near the boat ramp without one of their $6 dollar parking permits.
* I am still looking for a couple of Volunteers to act as Time keepers and starter. I am also looking for a Sheriff to dish out fines payable to Coastguard Whangamata.
* Also, I have a couple of Dinghies available if you only want to bring your engine and not a boat but you will need to contact me ASAP and be here Friday arvo to collect them.
* Please note this event is going to be held on a low tide so a pair of oars is essential or an anchor.
* My phone number is 0276085770 Andy Murray – feel free to contact my after 6.30 pm to answer any questions.
* Please let me know ASAP if you are coming to our event and what you want to enter in so we can plan catering etc.
To find out more about Brits at the Beach the website is www.britsatthebeach.co.nz
For the latest newsletter from Brits at the Beach Click Here
For the Facebook Page Click Here
Organiser of Brits at the Beach contact Colin email info@britsatthebeach.co.nz
Accommodation
This will likely be something of an issue. The 'Brits at the Beach' event will book out all the accommodation in the town well in advance. You cannot camp on the roadside reserve. Also the local council require you to have a 'parking permit' to park your boat trailer on the road. You'll need to contact 'Andy' for accommodation earlier rather than later. A pre-payment should likely secure you a place email thetinker@xtra.co.nz
Photos from 2013 click here
Video from 2013 click here
———————————————————————————————————————————————
31st Friday Oct – 1st Sat Nov 2015


Grafton Jacaranda Festival British Seagull Owners Group. Grafton. Aust.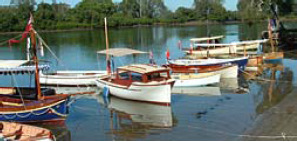 Seagull Owners Group will be there. Drop in & have a chat with Mark
Contacts
Mark email: buz_zook@hotmail.com
For the Jacaranda Festival website click here
For the event schedule click here
—————————————————————————————————–
Previously Labour Weekend, October
Lake Dunstan Seagull Outboard and Classic Dinghy Regatta. NZ
Saturday
OLD TOWN CROMWELL
Melmore Marina Boat Ramp
10:30 start Family Fun Events
2hp and 4hp Classes
Cracked Head Trophy for Seagull entries
$5.00 Entry
Sunday
POKER RUN
Old Cromwell Town to Pisa Moorings Cafe
11:00 departure
Fun Events $5.00 per hand; cards picked up at nominated points on the way. Some navigation and rowing needed.
Winning hand takes the pot.
Registrations of Interest Contact Grant Jefcoate of Alexandra
Ph 034487028 email jefcoate@clear.net.nz
———————————————————————————————————————————————
Check out the Facebook Page
Photos & Discussion from recent events Click Here
———————————————————————————————————————————————
Click Here for Events Calendar November
———————————————————————————————————————————————